Update:
This post was made for Wrath content. To see an updated post for Cataclysm Bear rotations,
click here
.
As I alluded to a couple weeks ago, Bears have the easiest tanking rotation of all the tank classes. I don't know this for a fact...I've never gotten a Warrior or a Paladin past 20 and I've never even considered attempting to tank on my DK (he's mostly a change-of-pace character). But from reading around the WoWsphere and talking to people who play those classes at high levels, I feel fairly certain that I have an easier time of it than they do.
That said, there's another side to the coin. Bears don't have a lot of room for error. If we're not performing our fairly simple rotation correctly, we just can't keep up.
Bear tanking mainly revolves around four abilities:
Maul
Mangle
Lacerate
Swipe
To a lesser extent,
Faerie Fire
.
This is speaking strictly from a threat generation perspective. In this post I'm not going to worry about things like
Demoralizing Roar
,
Frenzied Regeneration
, etc. Just threat.
To start off, I'm going to post two Recount screen shots. These were from the exact same fight (the Patchwerk weekly raid a couple weeks ago). The two tanks were me and another Druid in our guild, who we'll call Eve for sake of argument. It's a good fight to get a tanking comparison because we're both on the same target, stationary, whacking away at it the whole fight.
Before I go further I want to make something very clear. I am not picking on Eve. She's an alt who's used to healing (Priest) which, in my experience, couldn't be more different from tanking. I also made sure she was okay with me using these screenshots in my blog before I made this post.
Eve's recount:

My recount:
Now, what's important here is the percentages, not the actual damage numbers. Threat is in the numbers and it will come with gear, but a good tanking rotation is all in the percentages. In fact, if you look closely at the raw numbers,
most of her abilities out-damaged mine on a hit-for-hit comparison
. But I out damaged her 325K to 195K on the overall fight, which means I put up a ton more threat.
The biggest difference that you can see right away is the huge chunk of my damage (almost 60%) that came from Maul. The vast majority of a Bear's threat and damage come from this ability!
Maul replaces your normal melee attack with a much more powerful one. Notice the difference in Maul-to-Melee ratio between me (66-1) and Eve (3-62). What's more, it's off the global cooldown (because it's not an ability that's executed the moment you cast it) so you can just spam this while you're working through your normal rotation.
I think I said it in a previous post, but with the exception of Growl and Maul, I'm a clicker. I use my mouse to go through my rotation. However, I have Maul in the 4 spot so that I can easily reach it from the WASD movement keys.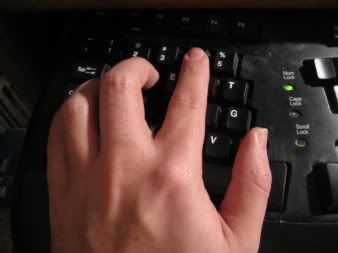 (Growl is a quick reach with my middle finger, by comparison.)
During any fight no matter what else I'm doing (except strafing to the right) I'm just pounding my 4-key into dust. I never have to worry about watching when it's ready or not. I just know that as long as I have the Rage available, my next melee swing will always be replaced by a Maul.
The rest of the tanking rotation after that is cake. Your priorities are Mangle, Lacerate (up to 5 stacks), and Swipe. Any time Mangle is off of cooldown you should be hitting it, as it's our second-highest threat ability. So assuming you pulled with a Faerie Fire (which you should be on bosses in order to immediately put up the debuff and some initial threat) you'll want to Mangle as soon as you're in melee range.
Next, start stacking Lacerate. You'll end up with 2 or 3 stacks (depending on how many points you've spent in
Improved Mangle
) before Mangle is off cooldown and you can hit again. Keep alternating between Mangle stacking Lacerate until you're up to a full 5 stacks.
At this point I start throwing Swipes because they do more damage than Lacerate. My general rotation is 2 Swipes, Mangle, Lacerate (to refresh stacks). In my spec Mangle is available after 3 global cooldowns, so this works perfectly for timing.
Note that Lacerate still does more threat than Swipe, even though it's lower damage. So if you really need the threat help (on a single target), drop the Swipes out of your rotation and fill them with Lacerates and Faerie Fires. It's also good to throw a Faerie Fire if you find yourself rage-starved. It'll fill a GCD and give you some extra threat. Plus it'll make sure the debuff stays applied through the duration of longer fights.
And that's pretty much it. Our standard rotation.
Pretty simple, eh?